← back to blog
Warning:  This post has absolutely nothing to do with weddings, events or styling.  

I don't know about you, but something about cooler weather makes me want to get in the kitchen and play Betty Crocker.  And coincidentally, about the time fall starts to roll around is the only time I may have a little time to myself to do something NON-wedding related… 🙂  When you eat, sleep and breathe weddings all summer, it's a welcomed break for the brain!  I feel bad for my poor husband…it seems my domestic skills are locked in the closet most of wedding season.  As a newlywed myself (it'll be one year in 2 weeks!) I'm still in the experimental stage to see what's worth making again and what will be never be repeated.  Some of you on Instagram asked for me to share this recipe, so without further ado…here's to kicking off baking season and the start of cooler weather.

This little recipe is perfect if you are avoiding gluten for allergies or just overall better health.  This is one of the first gluten free recipes I've tried for baking – I'm pretty picky and must say they were super yummy, and you'd really never know they were gluten free.

Here's what you'll need…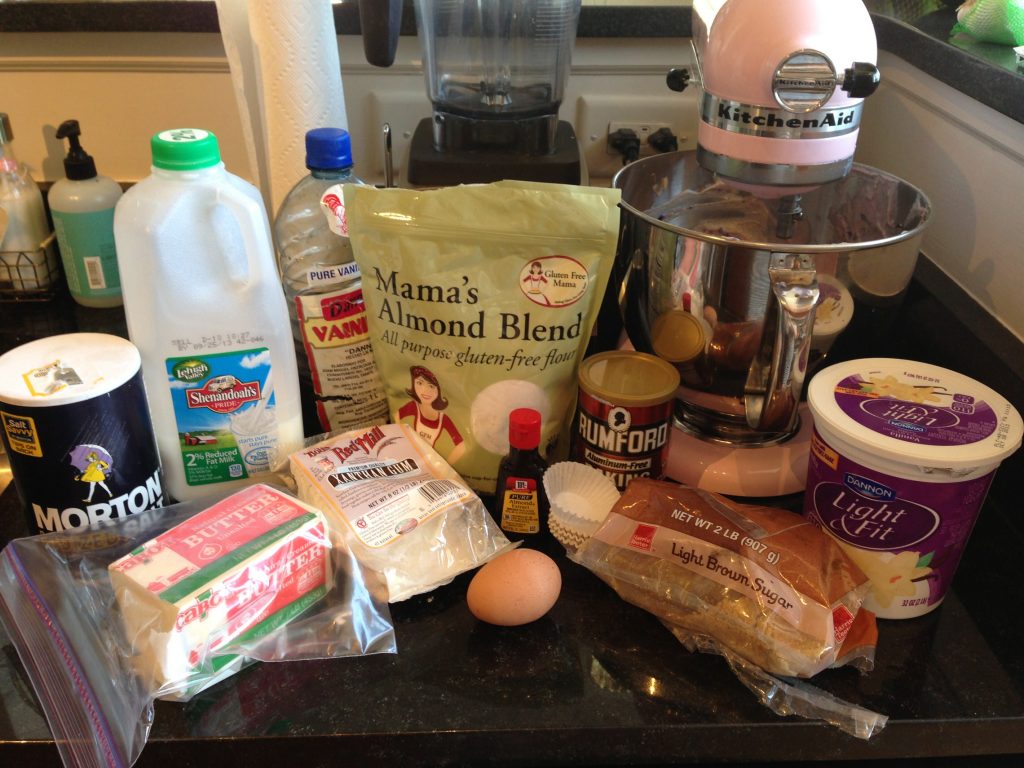 2 cups Almond Flour
2 tsp. baking powder
1 1/4 tsp xanthan gum (find it in the GF section at your grocer)
1/4 tsp. salt
1/2 cup butter, room temperature
1 cup sugar (I used light brown)
1 8 oz. carton GF vanilla yogurt (I used Dannon light & fit)
1 large brown egg
1 tsp. vanilla extract (I used REAL mexican vanilla – my MIL ships to us from over the border!  One sniff and you know the diff.)
1/4 cup heavy cream or milk
2 cups frozen fruit (I used blackberries and peaches because it's what I had in my freezer, but you can use really anything…note that the fruit being frozen helps keep it from getting mashed up too much in the batter.)
2 tsp. Almond extract (not necessary, but I wanted to intensify the almond flavor in the batter)
Preheat oven to 375 degrees.  Line muffin tins with liners.
In a medium bowl, whisk together flour, baking powder, xanthan gum and salt.  Set aside.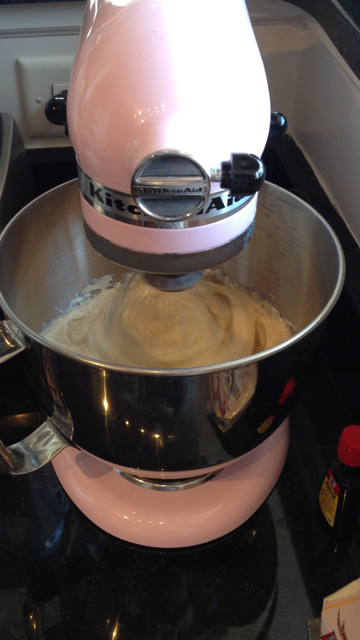 In a stand mixer, cream butter and sugar.  Stir in yogurt, egg and vanilla.  Beat 1 minute on medium speed until well combined.  Stop mixer and add half of flour mixture and and cream.  Mix on lowest speed for 10 seconds.  Repeat with remaining flour.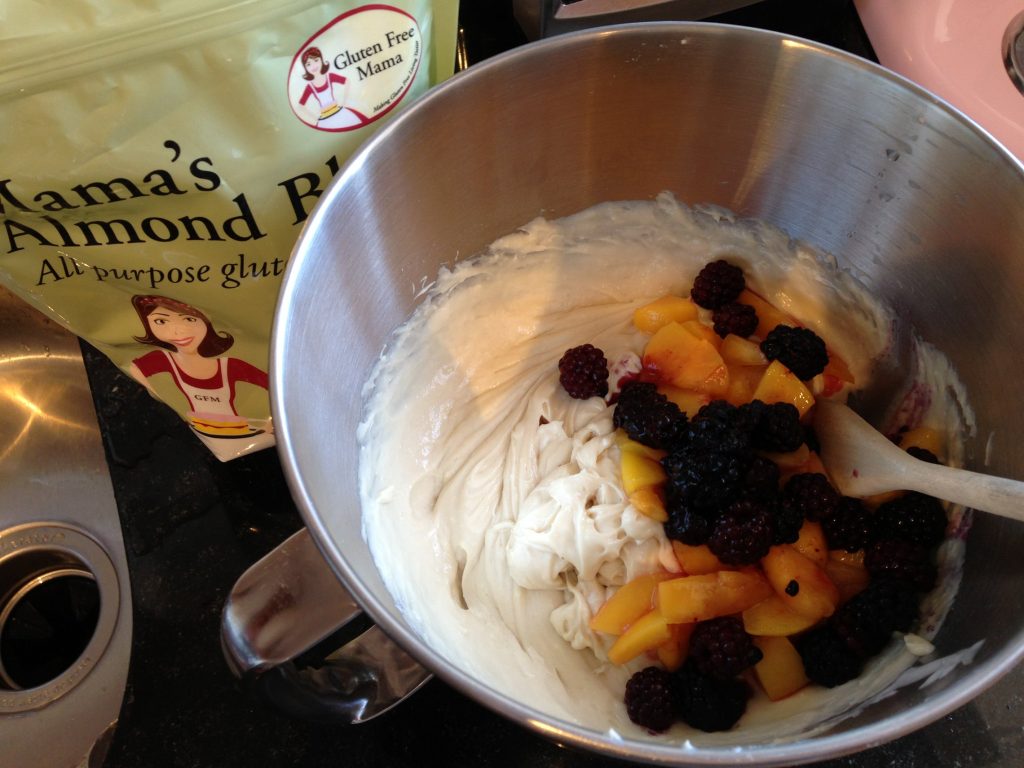 After you mix the batter until it's smooth (preferably in a strawberry milk hued kitchen aid mixer!) you fold in the fruit.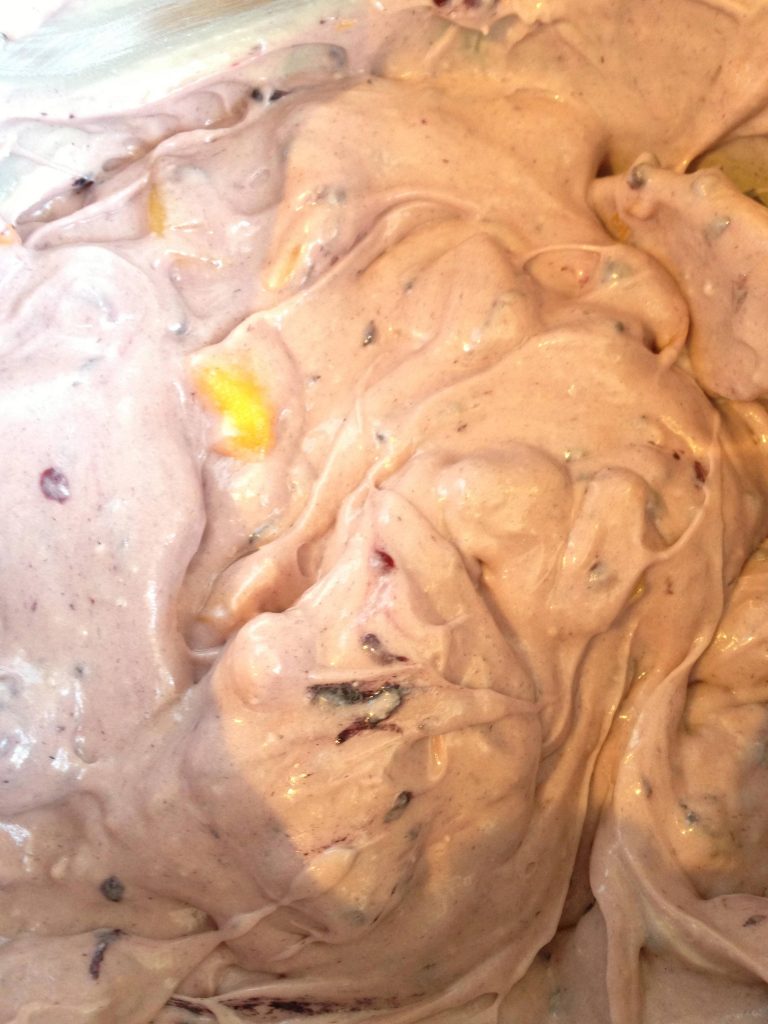 My berries had thawed a bit by this point, so the blackberry juice created a pretty lilac batter color!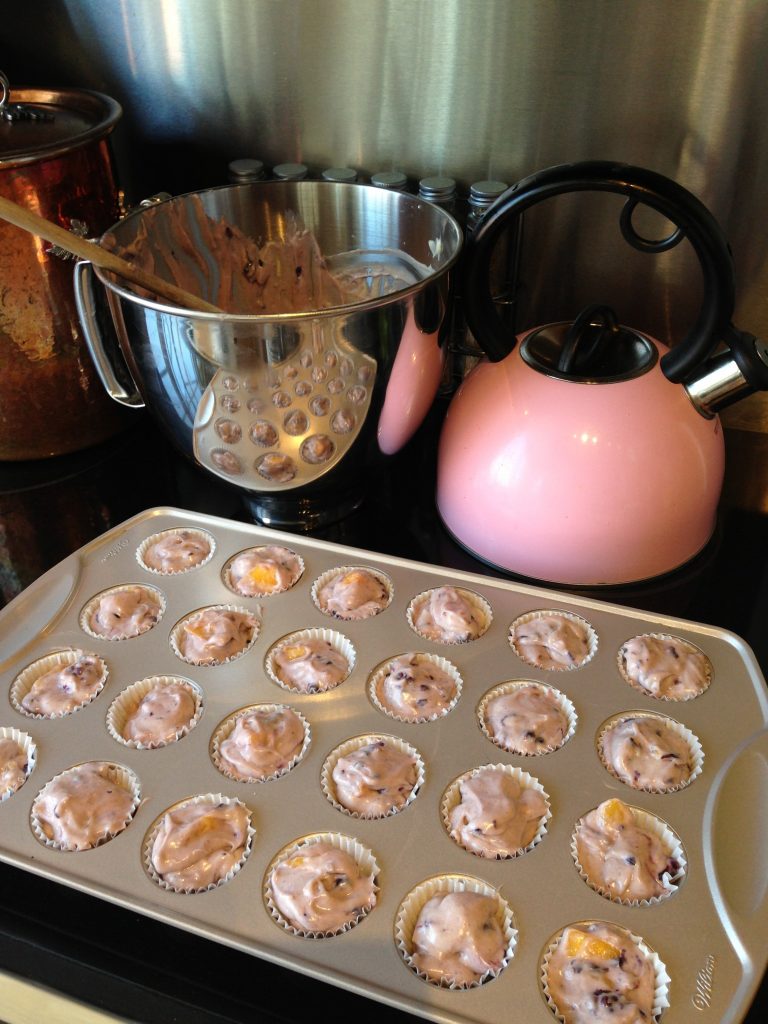 Spoon batter into your muffin liners – fill to top and smooth out tops with back of spoon. You can lightly sprinkle sugar on top if you want.  Bake in preheated oven for 22 minutes (mini's) or 25-40 minutes (normal size.) 
I made mini's instead of regular sized muffins since they're a perfect snack to eat on the go – either for breakfast with a hot cup of coffee (most likely in the car, if you're me…story of my life) or a little snack between meetings when you don't have time for a full meal.  I even brought a few for us to snack on during setup at our wedding this past weekend.  There's never really time to pause wedding setup for lunch.  No matter how big a breakfast I eat, at some point between breakfast and a lukewarm vendor meal around 9pm…I usually find myself famished.  Snacks are imperative – especially having healthy ones on hand!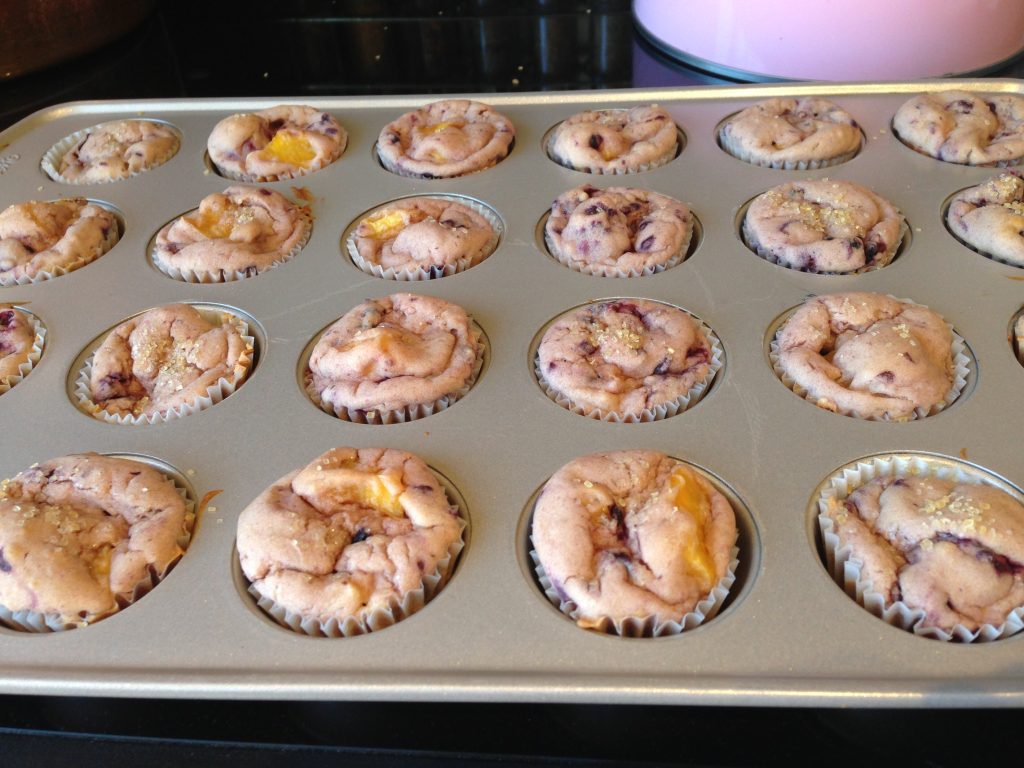 The recipe called for 22 minutes for mini's, 30 min for regular sized…as you can see above, when I pulled them out at 22 min. they didn't look quite done.  Back in they go!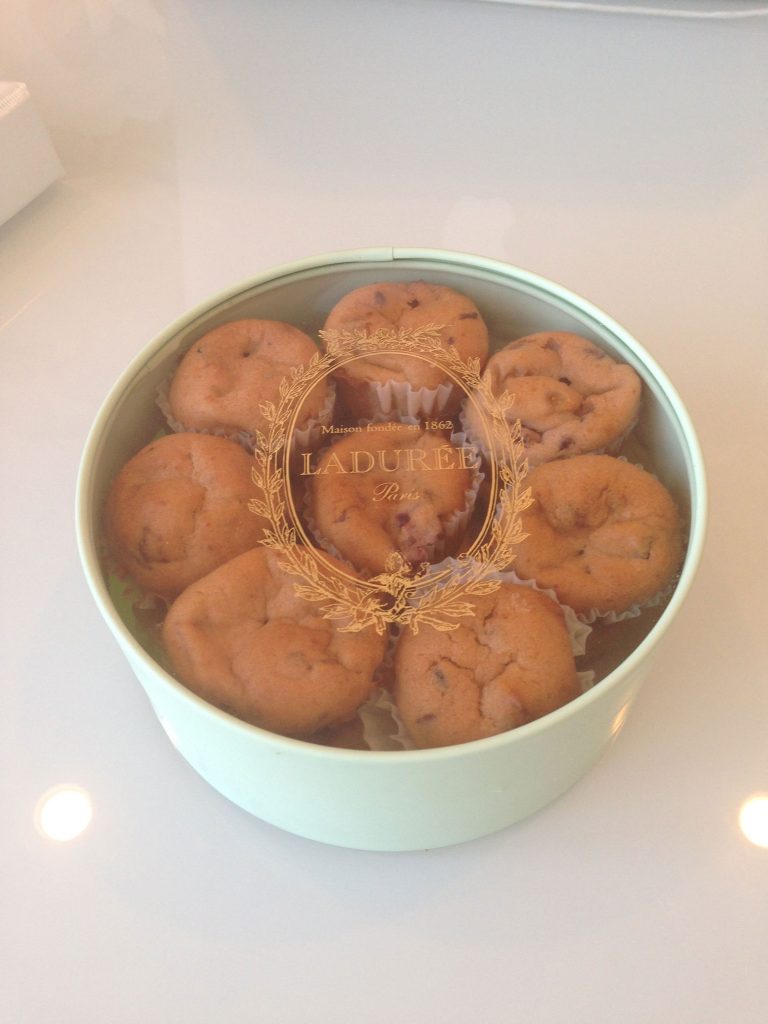 Voilà!  30 min was the trick, even for these little guys.  Of course, everyone's oven is different so just make sure you check them at the 22 minute mark, and you can stick them back in if they need it.  You can see at 30 minutes, these produced a nice golden color.  They look even prettier stored in a mint Ladurée box on the kitchen counter…but then again I'm probably biased 🙂
Bon Appétit!
instagram feed
The access_token provided is invalid.
follow us