← back to blog
There's a reason people flock to Florida in the winter (especially us East Coasters!) and if you're bride looking to get married between November and March, then maybe Miami should be towards the top of your list. Miami is a destination in itself without even having to leave the U.S. with its art deco charms, rich culture, foodie scene and warm turquoise waters – and according to Brides, this is exactly the time of the year to enjoy the best weather in Miami.
The Knot included it in its list of the most expensive places to get married. However, that doesn't stop it from continuing to be the most popular city in Florida to get married. After all, there's just something about being by the oceanfront, with sand under your feet and a beautiful view wherever you look, which makes the exchanging of vows in Magic City the stuff of dreams. So with that in mind, here's a list of some of the best places you can find in Miami where you can celebrate your big day.
1. Vizcaya Museum & Gardens
A waterfront Italianate Mansion situated 50 acres just 15 minutes from downtown with immaculate gardens and beautiful architecture.
Ceremony/Reception Space: Both (tent recommended for outdoor receptions)
Accommodates: 100 indoor, and 300 outdoor
Cost: Venue Rental begins at $12,500 and approx total $30k+ for a ceremony & dinner reception for 100 guests – but you get to choose your own caterer.
Good to know:  Since they're open to the public during the day, set up may not begin until 3 p.m. on the upper East Terrace, 4 p.m. in the gardens, and 5:15 p.m. in the Courtyard of the Main House. For those clients who require more time, earlier set-ups are available on the East Terrace for an additional fee.  All events start after 6:30pm.
http://vizcaya.org/facility-evening-rentals-fees-and-policies.asp
2. Fontainbleau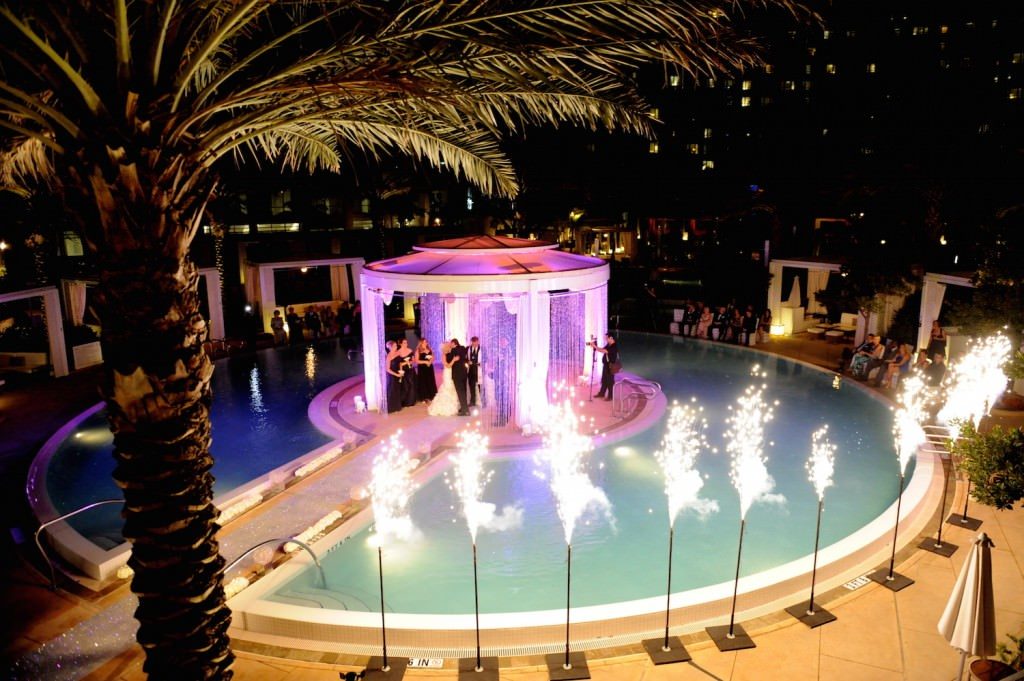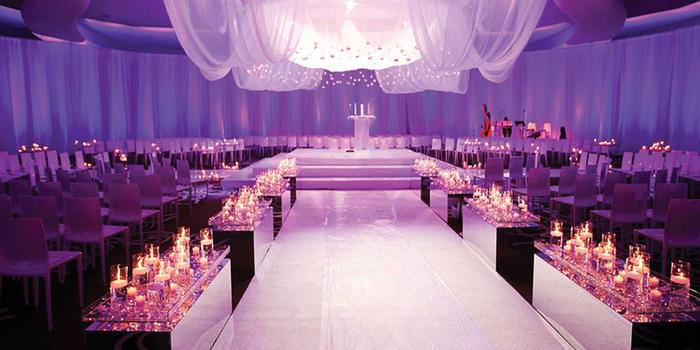 One of Miami's iconic old favorites, Fontainbleau is the "playground of stars," according to one of CBS Miami's feature writers. Enduring architectural imprints and an intoxicating mix of old and new 21st century glamour with floating ceilings, crystal chandeliers, ocean lawn and plentiful sweeping curves impart an ultra-modern atmosphere.
Ceremony/Reception Space:  Indoor and Outdoor
Accommodates: indoor 800, outdoor 800, indoor reception, 500
Cost: $14,500 for 100 guests (starting at $145pp+)
3. The Biltmore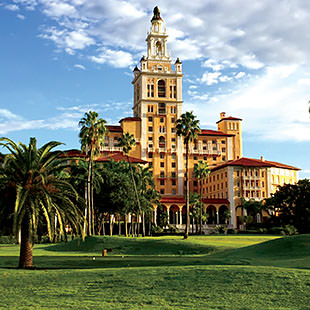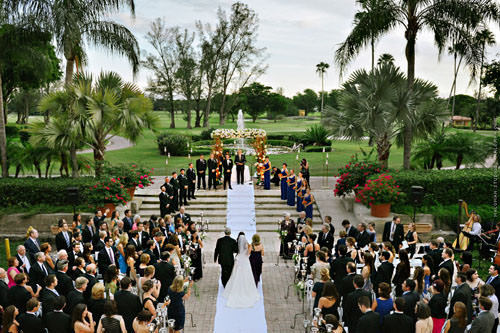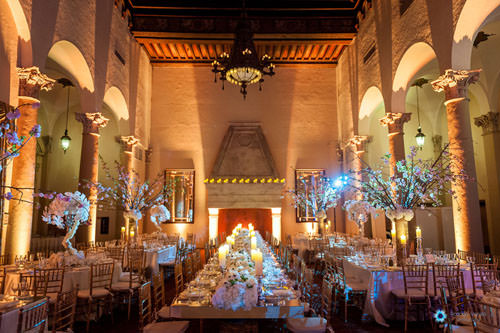 The elegant Biltmore Hotel was built in 1926 and designated a National Landmark in 1996, the hotel once served as a WWII hospital as well as part of the University of Miami medical school in 1968, eventually becoming a hotel again in 1987. In it's heyday, the hotel hosted such distinguished guests as the Duke and Duchess of Windsor, Al Capone, Bing Crosby, and Ginger Rodgers. Today, the hotel features a Culinary Academy, spa, as well as a championship golf course.  Look no further for old world glamour in Miami!
Ceremony/Reception Space:  Indoor/Outside (but amplified music needs to be inside)
Accommodates:Alhambra and Granada venues each accommodate 200, and the Country Club Ballroom accommodates 400.
Cost: $35,000 food and beverage minimum
4. The Ritz-Carlton Key Biscayne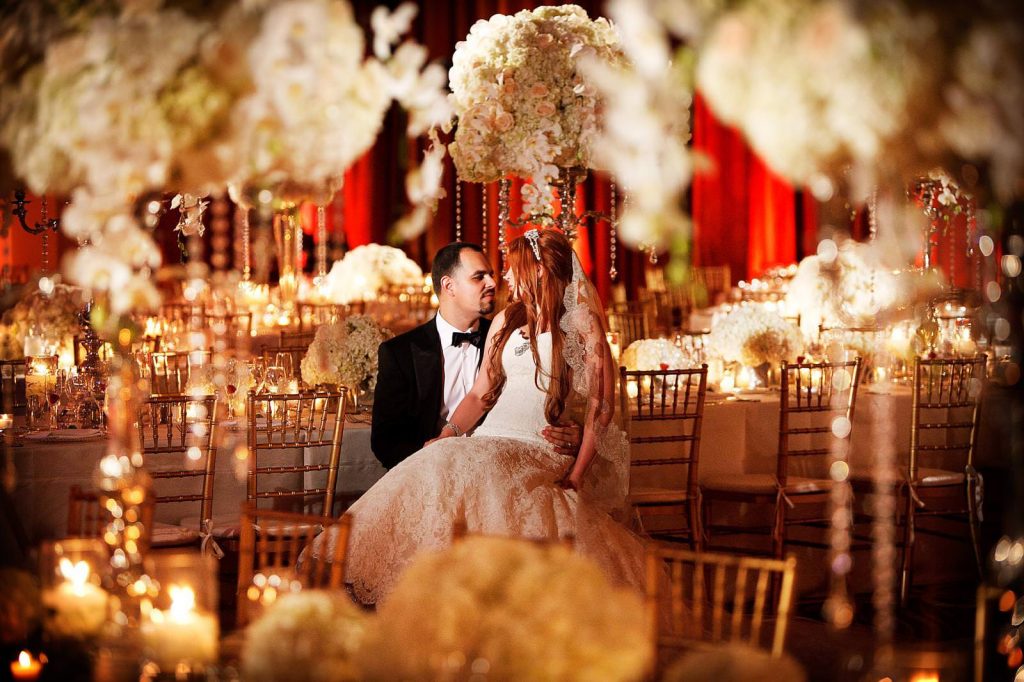 It's Key Biscayne's unique spot among Miami's best communities which has led Discover Homes to describe the destination as an, "island [that] perfectly combines the conveniences of city living with the laid-back atmosphere of resort living."  The Miami resort captures the spirit of the Caribbean and is located on an exclusive five-mile barrier island, just minutes from downtown Miami.
Ceremony/Reception Space: Grand Lawn, Grand Ballroom
Accommodates: outdoor 500, indoor 500
Cost: Between $33,800 and $41,500 for 100 guests
http://www.ritzcarlton.com/en/hotels/miami/key-biscayne
5. The Versace Mansion (Casa Casuarina)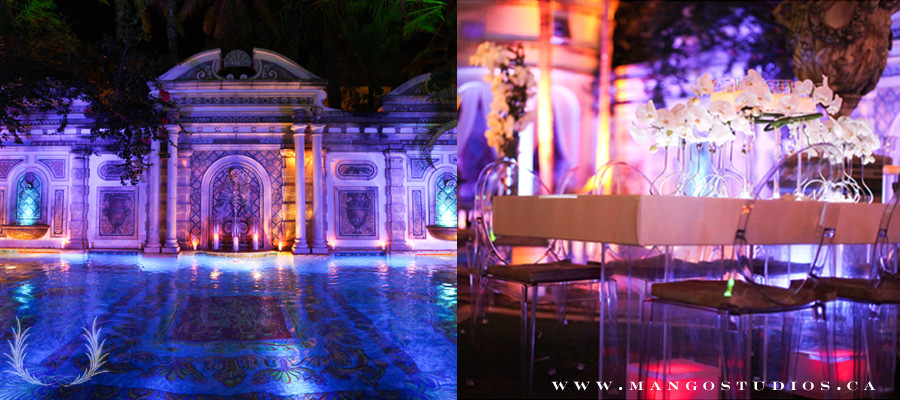 Formerly known as The Versace Mansion (it was designer Gianni Versace's personal residence until his death in 1997), the 19,000 square foot Villa features a 24-karat gold lined Thousand Mosaic Pool designed by Gianni Versace as well as 10 custom suites for guests (for exclusive use, ask about the buyout option.) The building was originally built in 1930 by architect and philanthropist Alden Freedman and modeled after Santa Domingo's "Alcazar de Colon" ("the oldest house in the Western hemisphere"), the house features Moorish tiles and mosaics, Since Versace's death ownership of The Villa has changed hands a couple of times, but it now exists as a restaurant, boutique hotel, and venue space.
Ceremony/Reception Space: Mostly outside
Accommodates: 130-150 with stage and dancefloor
Cost: $17,000 venue rental (up to 125 guests) and Food/Beverage Minimum $35,000.
Good to know:
Access to public spaces on first floor only including courtyard and Mosaic Garden.
Venue rental does not include access to Onyx Bar, Dining Room and upper floors of The Villa.
Tenting is available at an additional cost and highly recommended as there is not an indoor backup space to accommodate more than 30 guests (a clear tent would be amazing!)
instagram feed
The access_token provided is invalid.
follow us